The rationale and evolution of change management will be discussed, along with implementation approaches and VIU's work to make change management an integrated performance discipline within the university, using the following premise: The forces of constant technological innovation push our educational institutions to ever more diverse learning and teaching methods; affect the entire institution from academic strategy to pedagogical delivery and learning. Supporting data draws a line directly between change management effectiveness and project success. Providing a change framework, a human-centric approach, and appropriate tools provides a platform that encourages and supports individuals through their own personal changes while delivering success back to the academic strategy.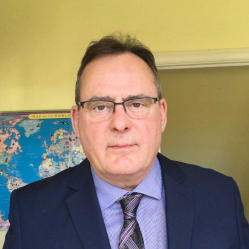 Nicholas Cumberbirch
Managing Partner | INNOVATIONS IN BUSINESS SYSTEMS, INC.
Nicholas holds a Bachelor of Science degree from Oxford Brookes University, is an MAPM, and holds a variety business and technology certifications from George Washington University.
Nicholas has helped develop post-secondary institution strategies and business cases to receive $MM Provincial funding, and managed and directed the initiatives that bridged to successful deliveries.
As a director at GV Sports Hall of Fame he Chairs the Display Committee, that show cases inductee achievements; recently providing indigenous memorabilia to the Canadian Association of Sports Heritage.
Martin McElroy
Institution and Organizational Change | INNOVATIONS IN BUSINESS SYSTEMS, INC.
Martin is an Engineering graduate of University College Dublin, and an MBA postgraduate of Imperial College London. Martin is a change manager and coach who works with clients to create and implement change management strategies that maximize adoption and usage, and minimize resistance. He has experience across a range of change scenarios in multiple countries, including the Republic of Ireland, the United Kingdom, the U.S.A, and Canada. In 2000, Martin coached Great Britain's rowing eight to the Sydney Olympic Gold; the first time Great Britain had won the men's 8 in 88-years.
Darren Everleigh
Co-Chief Information Officer & Director, Information Technology Operations | Vancouver Island University
Darren leads a team of 50 at Vancouver Island University. He has brought modern leadership styles to 3 large organizations building highly engaged and motivated teams. Darren's background includes positions and projects that have required large change affecting all levels of the organization including introducing new business systems, student portals, and departmental process change. Much time and effort on understanding, supporting, and enabling people. Darren holds multiple certifications in executive leadership coaching, brain based coaching, and Neuroleadership.